| | |
| --- | --- |
| Format | hardcover |
| Language | Swedish |
"Tender, loving but also critical and with a sense of humour. Given all the prejudice about Russia there is everywhere, Sill i päls should make up wholesome and joyful reading for many Swedes."
Lars Trägårdh, Professor and Author
20 år i Putins skugga
Kristoffer Lieng

Will be published May 7, 2020.
Russia is a popular topic in the media. There are troll factories and of course the one and only leader since 20 years. This is, however, not a book about Putin, and neither will it tell you whether he is kind or not, or if he has any plans to invade Sweden. It won't tell you about how miserable it is living in Russia today
Instead, Kristoffer Lieng, journalist and Russophile, shares his insights about everything unimportant: what it is like working for Russian media, the sensation of travelling by Lada, and the joy of happy minor. He tells us why you can't take out your trash on your way out, the experience of being treated in a Russian hospital and how to appreciate meat salads. We learn about the Russian language and its language policies, cars, housing, and everyday corruption.
Already as a child, Kristoffer dreamt of Russia, but his mother said no and sent her son to France instead, hoping he would recover. But it took only one year before he found himself in Moscow, singing Russian songs with a French accent. There was no way going back. A Russian person would say it's fate. A Swedish person, bad luck.
Kristoffer Lieng has been active in both the Russian media and Russian universities as long as Putin has been in power. Sill i päls gives a loving and humorous insight into the Russia of the people, as it is never portrayed in the news.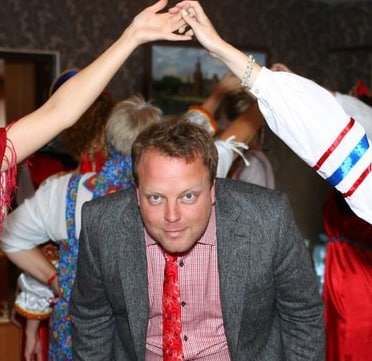 Kristoffer Lieng
Author
Kristoffer Lieng has spent half his life in and together with Russia. He is a journalist and a university lecturer, and has worked for Sveriges Radio, Swedish YLE, Voice of Russia and Russia Today. He has taught at the universities in Lund, Moscow and Caen. He has also guided tourists in Thailand, Turkey and Russia (of course). When life became to Russian, he fled to France, where he currently resides.