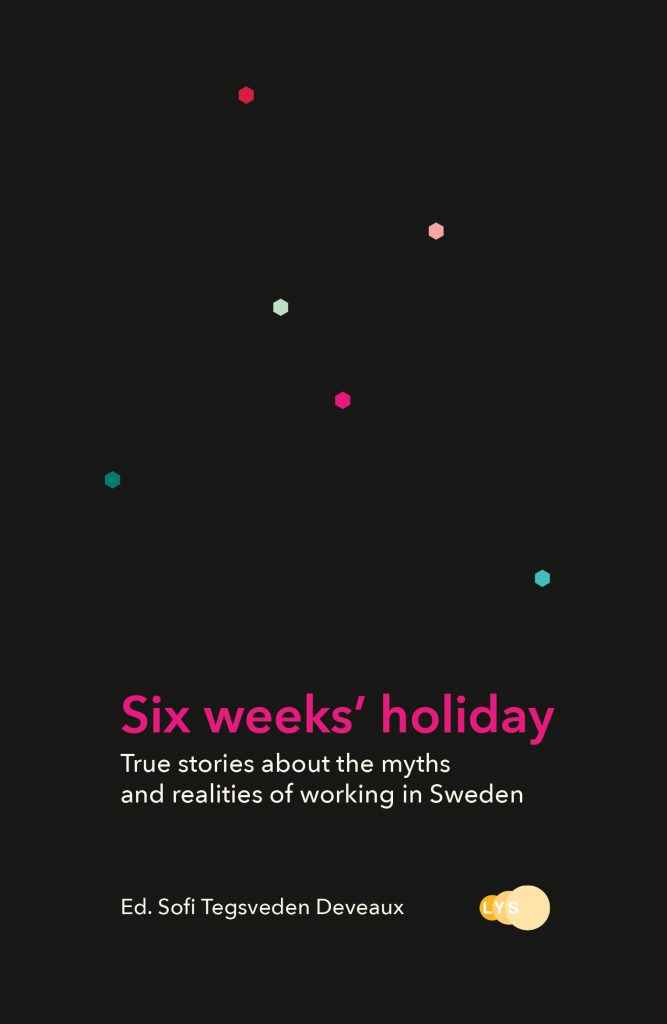 Sverige – dröm och verklighet
En antologi om att arbeta i Sverige, som utlandsfödd
Sverige är på många sätt ett fantastiskt land. För den som kommer hit för att arbeta hägrar platta organisationer, jämställdhet, tid för vila och rekreation. Svenskar pratar bra engelska och en väl fungerande infrastruktur har gjort många nordiska städer till innovationshubbar med stora och små start-ups. Hit lockas många internationella talanger med drömmar för både yrket och livet.
Men bakom varje flytt till det nya landet finns en personlig historia att berätta. Här blandas förväntningar med verklighet, besvikelse med lättnad, värderingar med vanor. Och genom den nya kulturens prisma upptäcker man också ett nytt eget jag, en identitet som är mer sammanvävd med kontexten än vad man kanske hade trott.
Six weeks' holiday – True stories about the myths and realities of working in Sweden är en antologi med 17 medverkande författare. Dessa, med ursprung i världens alla hörn, berättar om sina erfarenheter av svensk arbetsplatskultur och svensk arbetsmarknad, och också hur de själva har påverkats som personer av att flytta till Sverige.
Den här boken är ett måste för alla som är intresserade av inkludering, integration och mångfald på arbetsplatsen, och för den som är nyfiken på hur den svenska kulturen kan upplevas från ett annat perspektiv. Men boken går djupare än så, och rör också vid fundamentalt mänskliga frågeställningar kring gemenskap, språk, identitet, klass och kön.
Six weeks' holiday i engelsk utgåva finns att köpa som hårdband och mjukband från och med 1 oktober 2018. Den svenska översättningen beräknas finnas i handeln inom 12 månader.
Medverkande författare
Joshua Bookman Some reverse American dreams | Catherine Derieux You are the hero of this story | Kateřina Duchoňová Flush | Nausherwan Ghaffar Simplicity and humility | Marco Guadarrama A Mexican dreamer in corporate Sweden | Clarissa Hirst Home | Jill Leckie Mother of all let downs | Franziska Müller Subject: (No subject | Veronika Opatřilová A departure is the arrival to someplace new| Raman Ramalingam Trust score | Morag Ramsey Not a Swedish class | Werner Renck The fourth reflection or the broken mirror | Adriana Salazar A recipe for a successful work life in Sweden | Maddy Savage Me, a feminist, too | Olga Talalay Untitled | Federica Viero Naked so what | Angeliki Vlachou Perhaps because I have become a vegetarian