In books and films, cars can define a story, a character, or be a central part of the plot. When picking a car, the author has decide if it is a major player or just a bit-part. In This Land is no Stranger, the chosen car was both a character statement and a location for the two main characters to co-exist.
---
Written by Gil Reavill, co-author, This Land is no Stranger
SAAB STORY
All good Swedish mysteries and Nordic noir crime novels should have at their center a solid vehicle of local manufacture. That's the idea, anyway, behind an internal combustion co-star featured in This Land Is No Stranger: a blue 1970 Saab Model 96.
Krister Hammar, the immigration lawyer leading man of This Land Is No Stranger, is extremely proud of his "ancient," "lovingly maintained" heirloom. NYPD detective Veronika Brand, on the other hand, has a more cynical view: "It was bulbous in all the wrong places, like a car designed by clowns for use in a circus routine."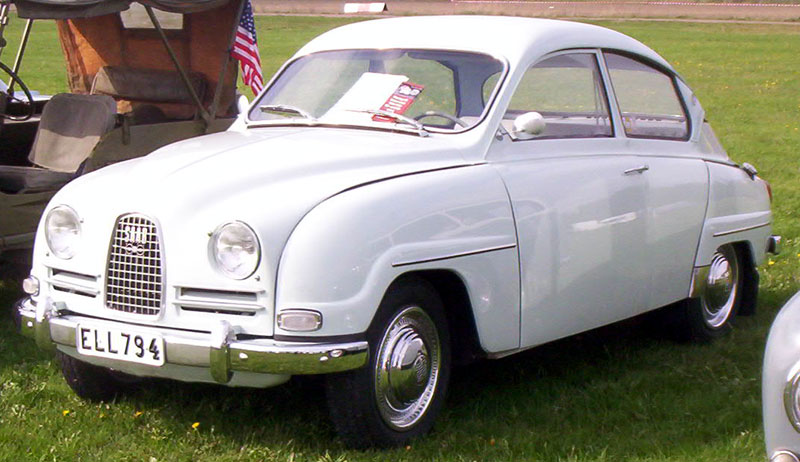 The Saab proved woefully underpowered. Hammar informed her it was the rare production vehicle that boasted three cylinders—not four, not six, not eight. Such limited capacity did not allow Brand to drive at her usual breakneck pace. The car did not sail. It chugged.
Later on in the action, when Hammar and Brand are on the run, pursued by various enemies, uniformed and otherwise, the distinctive and easily identifiable vehicle becomes a liability. "We have to get a goddamned different car," Brand tells Hammar, complaining that the Saab sticks out like a sore thumb. "Oh, there are plenty of old Saabs on the roads here," Hammar replies. "I saw a 1969 Model 96 in tan just recently, a few months back. We always salute each other with honks of the horn."
GREAT CARS IN LITERATURE (OR CARS IN GREAT LITERATURE)
In The Great Gatsby, F. Scott Fitzgerald never specified the year or model of the grand Rolls-Royce driven by his mystery-man hero, Jay Gatsby. Filmmakers have taken that omission as a chance for inventive license. As Gatsby, Robert Redford cruised with a 1928 Rolls-Royce Phantom in the 1974 movie adaptation of the novel, while Leonardo DeCaprio in the 2013 version does not drive a Rolls at all, but a 1929 Duesenberg II SJ. The problem is, neither of these cars would have been available in 1922, the year in which the novel was set. Aficionados have suggested 1922 Rolls-Royce Silver Ghost as the probable weapon employed for the book's (spoiler ahead) climactic instance of vehicular manslaughter.
Ian Fleming, author of the Bond novels, was responsible not only for 007's iconic Aston Martin DB Mark III, but also for another celebrated literary vehicle: "Chitty Chitty Bang Bang," the eponymous star of Fleming's fantasy children's book. It is fictional in all respects, not only because it flies, but because the car has no basis in an actual manufactured model. Fleming describes it as a "twelve-cylinder, eight-litre supercharged Paragon Panther," adding that the company "only made one of them and then the firm went broke." Outside of Fleming's fertile imagination, no such company exists.
Another flying car, Harry Potter's 1959 Ford Anglia 105E Deluxe, was indeed based on a real vehicle, manufactured by Ford UK and marketed to compete with compacts then on the market such as the Triumph Herald and the Mini Cooper. Author J.K. Rowling used the Anglia in her Potter books as an homage to a car owned by Sam Harris, a friend during her younger years. Harry's Anglia comes retrofitted with a useful feature, an "Invisibility Booster."
As might be expected, there are quite a few cars mentioned in Jack Karouac's On the Road, including a 1947 Cadillac Limousine and a 1937 Ford Sedan. But the author's running buddy Neal Cassady (named Dean Moriarty in the book) owned a 1949 Hudson Super Eight Commodore, a land-boat that represents the ultimate Fifties vehicle for raging cross-country journeys through the wilds of America.
An emblem of prestige in Fifty Shades of Grey, the Audi R8 Spyder driven by the novel's protagonist contrasts with the dumpy Volkwagen Beetle of his female crush-submissive-victim. Eventually (and predictably), the enormously wealthy Christian Grey gifts Anastasia Steele with a Spyder of her own. The mink-lined seat belts were added as an optional feature.
The most prominent recent appearance of the doomed Saab automobile brand comes in author Fredrik Backman's best-selling novel, A Man Called Ove. Much is made of the suicidal protagonist's enthusiasm for Saabs, as opposed to his former friend and current nemesis Rune, who has a preference for Volvos and, eventually, horror of turncoat horrors, for a BMW two-seater of German manufacture. Ove beats out Hammar in the vintage department, since he originally inherited and restored a 1949 Saab 92.
After several attempts to save the beloved make, the Saab Automobile AB filed for bankruptcy in December 2011. As Veronika Brand rather coarsely puts it to the car's stubborn advocate: "Krister, the whole damned Saab automobile company just went tits up. They're not making them anymore."
POLICE AND DETECTIVE VEHICLES
The Ford Crown Victoria enjoyed such a long run as a vehicle of choice for police departments across America that "Crown Vic" cropped up in street slang as a synonym for police. The current equivalent for Swedish public safety vehicles would undoubtedly be a Volvo V90, including the station wagon Estate version. Nowadays police in the States have gravitated toward SUVs, including the Chevrolet Tahoe, the Dodge Durango, and the Ford Explorer. Department-approved models often have a dedicated police identifier attached to their names, such as PPV (Police Pursuit Vehicle), Responder, or Interceptor.
The most prominent fictional detective strongly associated with a specific vehicle is probably author Colin Dexter's Chief Inspector Endeavour Morse, who drives a 1960 Jaguar Mark II 2.4. But the Jag actually was a legacy of the popular TV series, the novels on which it was based had Morse driving an Italian Lancia. John Thaw, the actor who portrayed Morse, insisted on the change.
Bullitt's Highland Green Mustang is immediately familiar from the film, not the novel which the Steve McQueen hit used as inspiration. Mute Witness, published in 1963, featured not Detective Frank Bullitt but a New York Crime Commission lieutenant named Clancy. Witness is by author Robert L. Fish, employing the sly pen-name of Robert L. Pike.
Which brings us back to the Saab, preferred by Ian Rankin's Inspector John Rebus. The Scottish detective's Saab 900 might be a little less ancient than Hammar's vintage vehicle, since the 900 was manufactured from 1978 to 1998. A Saab Turbo also appears in the James Bond novels of author John Gardner, who took over the 007 franchise after Ian Fleming's death. So in crime fiction, at least, the Saab sails on.